Notre-Dame Saint-Roch School is a Catholic educational establishment under diocesan supervision. As such, the parish is not directly involved in the administration and management of the school. However, the premises belong to an association: "Les Amis des Oeuvres et des Ecoles de Saint-Roch" of which the parish priest is a member by right.
The parish priest of Saint-Roch, is the chaplain of our school. The relationship of trust facilitates collaboration for the religious awakening of our children, many of whose families belong to the parish. The school is open to all and strives to respect the beliefs of all.
In order to respect our contract of association with the State, we have an extra hour of presence compared to the timetable set by the National Education, which allows our teachers to help our pupils to experience religious awakening to the Faith.
Religious education is an integral part of the educational project of our school and its teaching.
Religious awakening allows our children to put themselves under God's gaze, to be imbued with his Love, to learn to forgive and to know how to share.
The highlights of the liturgical calendar are displayed in the school hall through panels built during Advent or Lent and presented during the Celebrations.
A pastoral council meets three times a year: the parish priest, the headmistress, three teachers representing each cycle, the pastoral animator and parents.
In the kindergarten, religious awakening is occasional and follows the major liturgical feasts that mark our school calendar. It is provided by a team of mothers trained in the awakening of the Faith.
From the first year of school, with the help of drawings and diagrams, our pupils are introduced to the faith and guided by a student priest attached to the parish.
From CE1 onwards, our pupils take part in catechism at the parish on Wednesday mornings, with the agreement of their parents.
The sacraments of Baptism and First Communion are offered and take place in the parish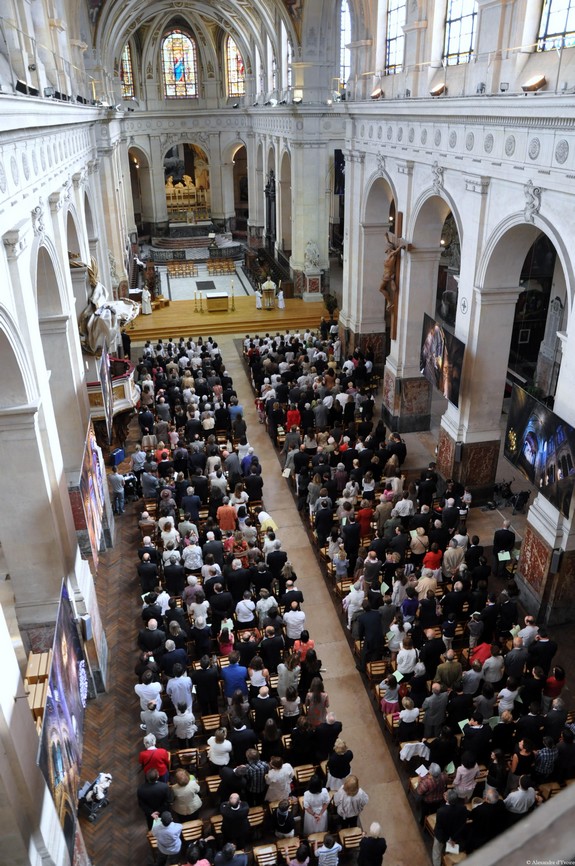 Our children know that they are welcome on Sundays at "La messe des Familles" at 11am, according to formulas adapted to each age: initiation to the faith for 3 to 8 year olds, liturgy of the Word adapted to them for 8 to 12 year olds, the children joining the mass at the offertory. The dates are communicated in advance and take place once a month